"There is a Newborn Pumpkin"
by Marie "Grandma" Corwin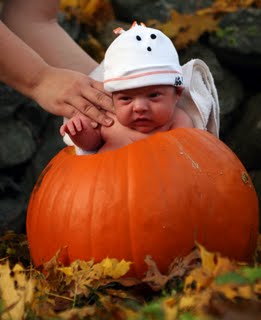 There is a newborn pumpkin
Picked in time for Halloween
From a patch in Boston town.
She's plump and round and clean.

A little Polish pumpkin
On cue for Halloween.
Her Italian name's Giuseppa,
But in English, Josephine.

Her daddy calls her Josie,
And she's still a little green.
She just came this October
In plenty time for Halloween.

She came a good deal early,
Not on twenty or thirteen.
She surprised us on the seventh,
Way ahead of Halloween!

She's bigger than a mango,
An orange or tangerine,
Seven pounds and four ounces,
Exactly right for Halloween.

We think she'll be a president,
Ambassador, or queen.
For real! Not just a costume
Worn one night for Halloween!

We thank God for our pumpkin,
So perfect and pristine.
Our cute Bostonian pumpkin,
She'll be ripe by Halloween!